BY TYLER DURDEN
In the last two years, the price of agricultural products has risen sharply. This is reminiscent of 2007 and 2011, and new highs in food prices could be reached later this year.
Food prices continued to accelerate in January. The FAO (Food and Agriculture Organization) Food Price Index (FFPI), a measure of the monthly change in international prices of a basket of food commodities, averaged 135.7 points last month, up 1.5 points (1.1%) higher than in December. FFPI nears the 2011's all-time high and could hit soon hit a record high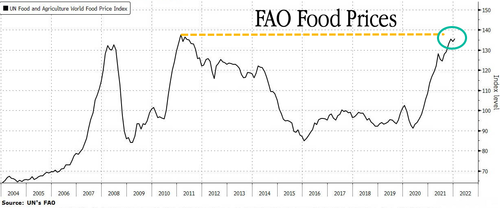 Rome-based FAO said the meat index had the most significant monthly jump, up 17.3%. Next was a 4.2% increase in the vegetable oils index (marking an all-time high), the dairy index rose 2.4%, cereals were flat, and sugar was down 3.1%.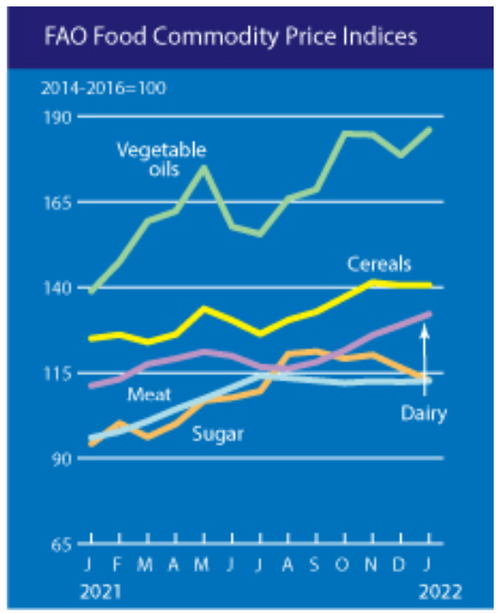 What's noteworthy is that inflation isn't hitting everyone equally. Lowest income folks "feel the pinch the most," Josef Schmidhuber, deputy director for markets and trade at the FAO, told Bloomberg. "High energy costs and high food costs and high necessities — they account for a large part of their overall expenditures."
Rising prices of goods and services have rocketed inflation to its highest level in 40 years. The Biden administration has vowed to tackle the inflation monster, but it appears prices for food, energy, and shelter continue to rise ahead of midterms. Inflation is widespread, and it's hitting the poorest the hardest.
Once thought of as "transitory," persistence inflation raises alarm bells as soaring prices dent household budgets due to a slump in nominal wage growth. Even though supply chain-produced inflation is temporary, it will have long-lasting impacts on households and could even influence the vote in the upcoming midterms.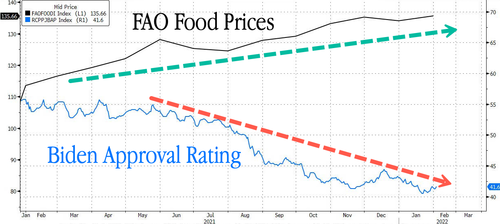 The negative correlation of soaring food prices and slumping polling figures for President Biden does not imply causation. Still, one could argue that four-decade high inflation, squeezing most Americans' pocketbooks, could indicate widespread discontent for one of the most unpopular presidents in a generation.