By Marie Jackson & Mary O'Connor BBC News
England's Plan B measures are to end from next Thursday, with mandatory face coverings in public places and Covid passports both dropped, Boris Johnson has announced.
The prime minister also said the government would immediately drop its advice for people to work from home.
The PM said England was reverting to "Plan A" due to boosters and how people had followed Plan B measures.
He told MPs scientists believed the Omicron wave had peaked nationally.
At a Downing Street press conference, Health Secretary Sajid Javid said: "This is a moment we can all be proud of.
"It's a reminder of what this country can accomplish when we all work together."
But, he said, this should not be seen as the "finish line" because the virus and future variants cannot be eradicated – instead "we must learn to live with Covid in the same way we live with flu".
He urged people to continuing taking steps to keep the virus at bay, including hand washing, ventilating rooms and self-isolating if positive – and pressed those who were unvaccinated to come forward to get their jabs.
Earlier, in a statement to MPs in the House of Commons, the prime minister said:
Mandatory Covid passports for entering nightclubs and large events would end, though organisations could choose to use the NHS Covid pass if they wished
People would no longer be advised to work from home and should discuss their return to offices with employers
Face masks will no longer be mandated, though people are still advised to wear coverings in enclosed or crowded spaces and when meeting strangers
From Thursday, secondary school pupils will no longer have to wear face masks in classrooms and government guidance on their use in communal areas would be removed "shortly"
Further announcements on the easing of travel rules and restrictions on care home visits in England are expected in the coming days, Boris Johnson added.
The prime minister also said the government intended to end the legal requirement for people who test positive for Covid to self-isolate – and replace it with advice and guidance.
The current regulations around self-isolation expire on 24 March. Mr Johnson said he expected not to renew them then – and suggested that date could be brought forward if the data allows.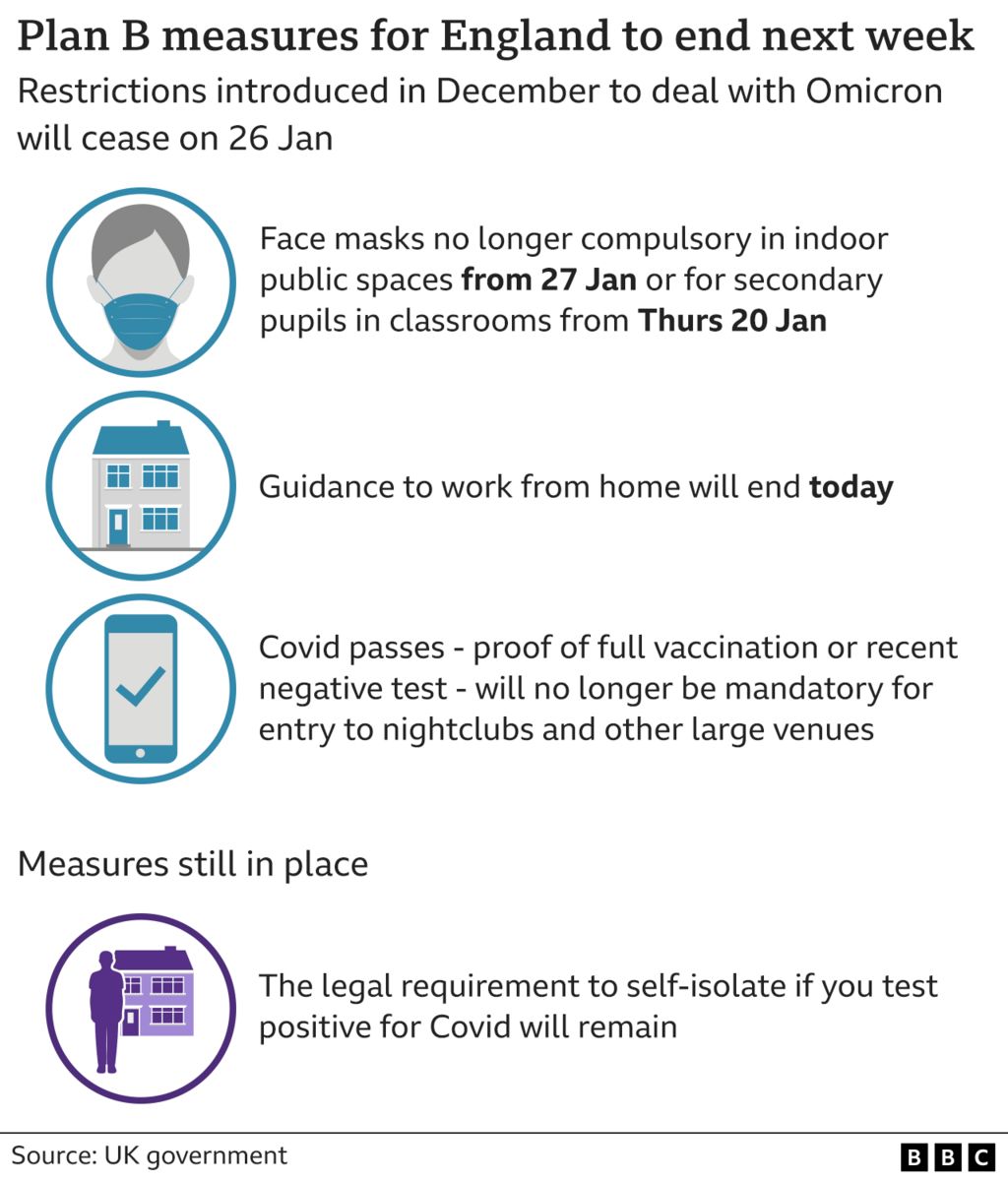 Citing the latest infection study by the Office for National Statistics, Mr Johnson said its data showed that infections levels were falling in England. He also said hospital admissions had stabilised and scientists believed "it is likely that the Omicron wave has now peaked nationally".
However, he said he did expect cases to continue rising in primary schools and pointed to significant pressures on the NHS in north-east and north-west England.
Looking ahead, Mr Johnson said the government would set out its long-term strategy for living with coronavirus.
He urged people to "remain cautious" during the last weeks of winter as there were still "significant pressures" on the NHS and the pandemic was "not over".
In response, Labour leader Sir Keir Starmer said he would back lifting Plan B measures "as long as the science says it is safe" and accused the prime minister of being "too distracted" to have a "robust plan to live well with Covid".
School leaders' unions said Covid remained a challenge for schools, with high numbers of staff and pupils absent.
Geoff Barton, general secretary of the Association of School and College Leaders, welcomed the end of face coverings in classrooms, but warned the government risked giving the impression the crisis was over when there was still huge disruption in education.
And the Royal College of Nursing said dropping Plan B would do "nothing to ease the pressure on the NHS".
"We can't rely on the vaccine alone when the situation is still so precariously balanced," its chief executive Pat Cullen said.
But for the hospitality sector, which suffered as people worked from home and were cautious over Omicron, there was relief. Industry group UKHospitality said businesses could now begin their revival and recovery.